Homeland Heroes Park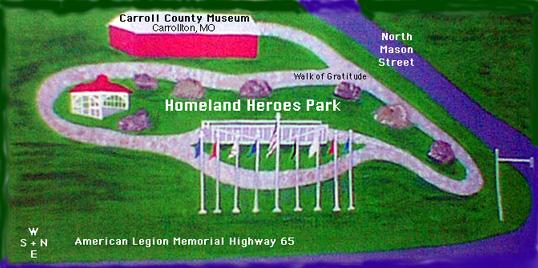 Honoring the heroes of Carroll County
President Ronald Reagan once said, "We don't have to turn to our history books for heroes. They are all around us." Homeland Heroes Park exists to honor and remember the valor displayed by the heroes of Carroll County. Many of them paid the ultimate price to preserve our freedom and gave the greatest gift anyone could possibly give to their fellow man-their life.
Located on the grounds of the Carroll County Museum, and overlooking U. S. highway 65, the park provides a very scenic view for all visitors. U. S. highway 65 is also known as the "American Legion Memorial Highway". This lends added meaning to the chosen site for the park.
A walkway leads the visitor through a beautiful view and over a pedestrian bridge which dates back to 1920. Along the way, you will see various memorials honoring anyone willing to wear a uniform showing their willingness to protect and defend the safety and welfare of others.
While at the park, visit the serene outdoor chapel created within Carrollton's historic pavilion dating back to the Spanish-American War.
The Walk of Gratitude is a chance for Carroll County citizens to remember their heroes in a very personal manner.
A permanent, prominent display of flags includes the United States flag, the Missouri State flag, a POW/MIA flag, and a flag representing each of the uniformed services honored in the park.
Visit often your Homeland Heroes Park and participate in honoring the heroes of Carroll County.